Chiang Mai, Thailand's 'Rose of the North' is brimming with exciting things to do for vacationing families. Whether you have young children or teenagers, the incredible sites and activities in this exotic city will have your kids talking about their trip for years to come. Families can look forward to meeting playful elephants and majestic tigers, go on jungle adventures, swim in waterfalls, and more. Read on to learn more about our Chiang Mai family tours for an unforgettable family vacation!
Chiang Mai Kid Friendly Tours
If you are traveling to Thailand with kids, Chiang Mai is a safe, family-friendly city that has a surprising number of things that both parents and kids will love. It's easy to explore the bustling downtown area one day and then go out into the countryside the next. It's guaranteed to have something for the whole family.
In the nearby mountains, animal lovers can feed and bathe elephants. If you love zoos, there's also a fantastic African safari spin-off where you can meet giraffes, otters, zebras, lions, bears, and more.
If you love getting wet, there are opportunities to float down the river on a traditional handmade bamboo raft or splash around in a water park. For something truly unique, visit stunning waterfalls that you can stand under and get sprayed by cool water, or if you are really adventurous, you can go swimming in the natural waterfall pools.
The jungles have beautiful hiking trails where your family can see the local wildlife and jungle plants. For the truly adventurous, go zip lining through the jungle treetops!
Another activity exclusive to Chiang Mai is traveling to a local hill tribe community. Children are often fascinated to see what life is like for families that are so different from their own. These indigenous people have a different culture and may dress differently, but they are families all the same.
Choosing the Best Family Tour In Chiang Mai
Spice up your family vacation and enjoy a day or two sign up for a child-friendly Chiang Mai tour. Here's a closer look at some of the most popular things to do in Northern Thailand with kids.
One Day at the Elephant Sanctuary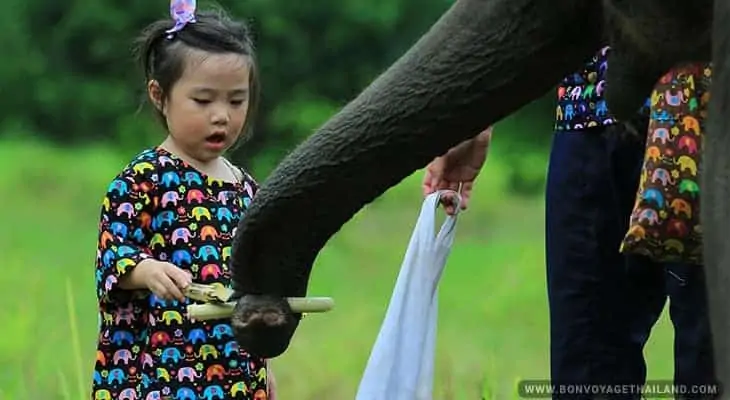 Highlights of this elephant tour include:
Learn about the history of Thailand's elephants
Give an elephant a mud spa
Take a walk with the elephants to a waterfall
Bathe and brush elephants in the river
One of the most anticipated experiences in Chiang Mai is to spend a full day with elephants, one of Thailand's most special animals. These gentle giants have a long history of working in fields or giving rides to tourists but the Elephant Hug Sanctuary has rescued them from these harsh conditions. Now, the elephants live in peace and visitors can spend the day with elephants in a safe and ethical environment.
This unforgettable excursion begins with a scenic drive through Chiang Mai's countryside and then up into the mountainous jungles to the home of the elephants. Once you've arrived at the Elephant Hug Sanctuary, your local English-speaking tour guide will give you traditional Karen clothing to wear over your outfit and teach you all about the history and behavior of Thailand's elephants.
Afterward, it's time to meet the elephants one by one. Pet them, learn their names, and gain their trust by feeding them their favorite snacks of bananas or sugarcane. Once you spend some time with them, you'll begin to notice their different personalities. Some are quiet, some are playful, and some are curious!
After your family meets the elephants, take a short break and relax with lunch in the jungle. Enjoy traditional Thai food and fresh, tropical fruit under the shady trees.
Once you're full and rested, it's time to give the elephants their much-anticipated mud spa. Get ready to get dirty! Your guide will lead you down to a big mud pit where you can slather soft mud on the elephant legs and bellies. Afterward, take a slow walk through the jungle to a local waterfall. There you can swim in the natural pool and give the elephants a good scrub to wash off the mud.
Visiting an elephant sanctuary is a unique experience. Book now and experience a day of fun that your family will talk about for a long time.
Chiang Mai Night Safari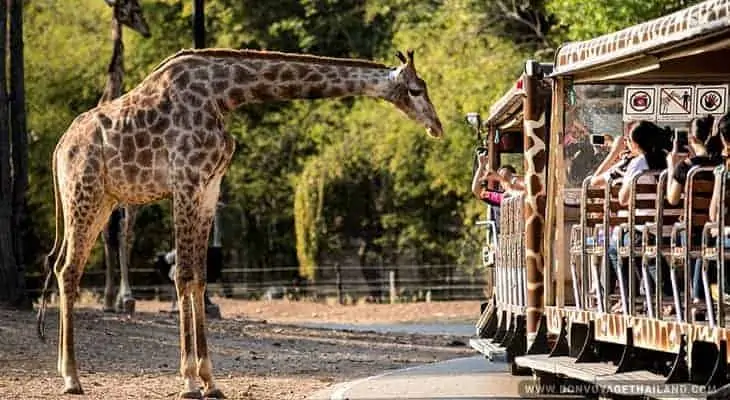 Highlights of the Chiang Mai Night Safari tour:
Walk around Swan Lake and learn about exotic animals
Tour the Savanna Safari Zone (giraffes, zebras, red kangaroos)
Visit the Predator Prowl Zone (white tigers, hyenas, lions)
Watch a spectacular Tiger Show, Safari Dancing Cabaret Show, and Musical Fountain Show
The Chiang Mai Night Safari is a unique tour that will take you to see exotic animals, much like you would experience if you were on an African safari! The park is split into several zones and just after sunset it comes alive with gentle grassland animals and incredible beasts of prey.
The tour begins with a visit to Swan Lake. Take a stroll around the walking paths while your guide shares educational and interesting facts about the park's animals.
Afterward, hop aboard an open-air trolley and drive around the two main zones of the park: the Savannah Safari Zone and the Predator Prowl Zone. Animals such as zebras and giraffes roam free in the first zone. Sometimes they are curious and will come up to the trolley. They especially love to eat treats, so be sure to buy a bag of snacks for them for the trip! The second zone is home to lions, tigers, and hyenas. These animals are inside protective enclosures that allow families to see them while staying safe.
The tour also includes several spectacular shows. There's a Tiger Show with several performances put on by Indian tigers, a white tiger, and a white lion. The Night Predator Show features bears, wild boars, jaguars, porcupines, and other creatures of the night. If you like music and dancing, be sure to watch the Western cowboys and cabaret dancers of the Safari Dancing Show.
Sign up now for the Chiang Mai Night Safari for a fun-filled family night among exotic wild animals.
One Day Trek In Mae Wang – Elephant Spa And Mud Bath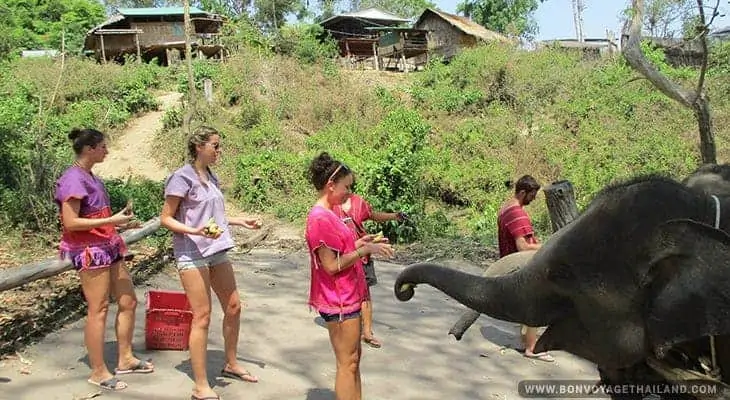 Highlights of this trekking tour include:
Hike through the Thai jungle
Visit a Pa Ka Yor (Karen) hill tribe village
Swim at a waterfall
Meet elephants and give them a mud spa and bath
Bamboo raft down the local river
Experience the best of Chiang Mai on this adventurous trek for outdoor lovers, located about an hour and a half's drive from the city in the Thai countryside. The surrounding countryside is lush green between August and January and golden from February to May.
This full-day trekking tour begins with a 30-minute hike through the jungle to a Pa Ka Yor (Karen) hill tribe village. This is the home of a unique community of people who are known in the region of Northern Thailand for their skillful embroidering and weaving abilities.
After meeting the tribes people, it's time to walk deeper into the jungle to a beautiful waterfall. There you'll find a natural freshwater pool that you can swim in all year round.
Once you've cooled off, you'll have the once-in-a-lifetime opportunity to meet a small herd of elephants at a nearby elephant camp. Learn their names one by one and feed them their favorite treats. Once you've won them over, take a walk down to the river with them, splash around in the water, and then give them a mud bath. After spending some quality time with the elephant, say goodbye and sit down for a satisfying lunch of Thai food and tropical fruit in the shady jungle.
The tour wraps up with a relaxing trip down the Mae Wang River on a traditional bamboo raft. It's a fun, easygoing way to experience the jungle from an entirely different perspective from your usual nature path. Although the water level is higher in the rainy season and lower in the dry season, your family will be able to participate in this activity throughout the entire year. At the end of the trip you'll have the opportunity to change into dry clothes and relax on the ride back to Chiang Mai.
Book the 1-day trekking tour in Mae Wang if you and your family love nature and want to experience the most popular leisure activities in Chiang Mai.
Jungle Flight Jf1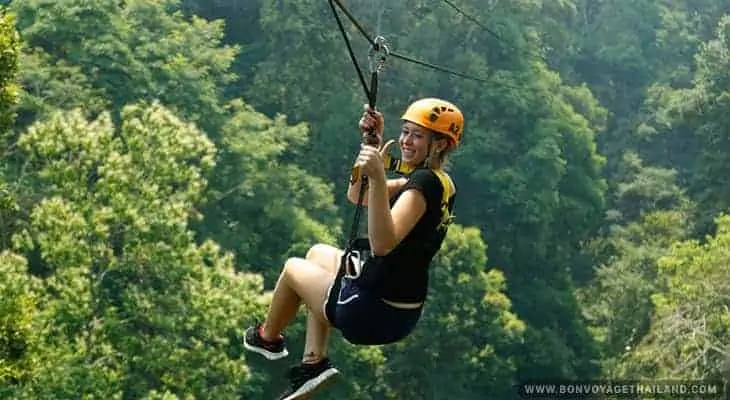 Highlights of this jungle zip lining tour include:
40 Platforms
22 Zip lines (the longest zip lines are 400, 300, and 250 meters)
3 Abseils (20, 25, and 40 meters)
3 Sky-bridges
1 Net walking
1 Spiral staircase
2 Panoramic views
On this half-day tour, you'll experience the ultimate adventure ziplining through the treetops of Chiang Mai's tropical jungle. It's perfect for families looking for a quick adrenaline rush, or for those who can not commit to a full-day trip.
There are four different pick-up times to choose from for this tour (6:30 a.m., 8:00 a.m., 9:30 a.m., or 12:30 p.m.) and it lasts approximately six hours. Due to the conditions of the activity, participants must be between 4 and 80 years old, at least 120 cm tall and weigh no more than 120 kg.
Once your family has arrived at the Jungle Flight Zipline Base Camp, you'll be greeted with a refreshing drink by your English-speaking guide, given safety instructions, and shown how to use the zip lining equipment. Then the true adventure begins!
The course twists and turns its way through the Thai jungle, which is home to ancient Yang trees and incredible views of nearby cliffs, rivers, and a lush green forest. There's a combination of thrills including 22 zip lines (some as long as 400 meters) and three controlled descents down steep drops. Test your balance and agility by walking across three sky-bridges and climbing across a suspended net, too. Be sure to bring your camera and capture the incredible views at both panoramic viewpoints. Before heading home, the zip line tour wraps up with a Thai buffet meal.
Find out more or book the Jungle Flight JF1, one of our most exciting Chiang Mai kid friendly tours.
Tube Trek Waterpark Chiang Mai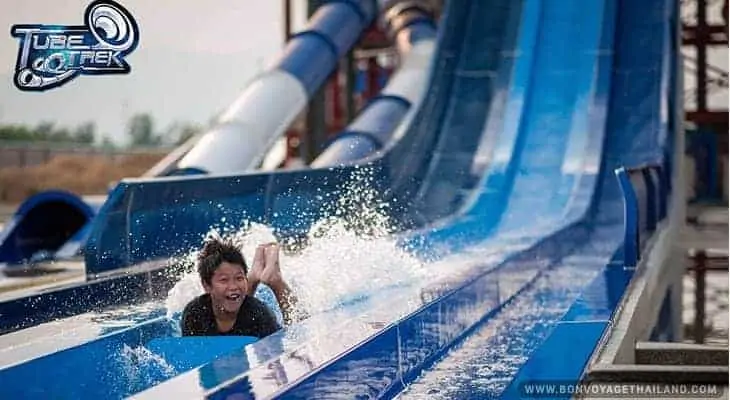 This tour includes visits to:
Wormhole Mega Slide
Splash Pool Phase featuring 5 slides
Whirlpool Lazy River
Hide Tide Artificial Wave Pool
Space Fortress for young children
Chiang Mai's new Tube Trek Waterpark is the perfect way for your family to cool off during a hot day in Thailand. You'll be picked up by your own private English-speaking guide and driver and driven to the park for a full day of family fun.
Located out in the countryside of San Kamphaeng, The Tube Trek Waterpark is open year-round, so you can plan on having splashing fun no matter when you visit Chiang Mai on your family vacation.
What's better than bodyboarding in a wave pool, peacefully lounging in a lazy river, or enjoying the speedy thrills of a water slide? This space-themed water park has brought the sea to you, where you can catch some waves at its artificial beach. There's also a whirlpool lazy river, that encircles the massive Wormhole. Thrill-seekers can zip down this special water slide by themselves or grab some friends and go in groups of 2, 3, or 4. There are also five other slides including the U-Swing, the Spin Slide, the Racing Slide, the Agravic Capsule, and AquaLoop.
Families with young children can enjoy a visit to the Space Fortress. It's designed for children less than 120 cm tall and has a 30 cm deep wading pool and several friendly robots.
When you need to, take a break in the Food Court or take a break in the VIP Resting Area. There are several restaurants serving Thai food and Western food such as pizza and fries. Enjoy fruit smoothies and freshly brewed espresso drinks, too. The park also has several gift shops, an on-site massage and spa shop, and other shops to buy merchandise. Locker, towels, and shady cabanas are also available for rent.
Book your Chiang Mai Tube Trek Tickets today with us!
Which Kid Friendly Chiang Mai Tour Are You Most Interested In?
With the incredible variety of family tours in Chiang Mai, you're sure to be able to choose the perfect tour for you and your children. We offer additional organized tours such as visiting the Chiang Mai Zoo and Aquarium near the base of Doi Suthep, or traveling to San Kamphaeng and learning how paper umbrellas and silk are made at the Bo Sang Umbrella and Thai Silk Villages and please have a look at our full day tours.
Let Bon Voyage Thailand help make your vacation unforgettable while you visit this incredible city in Northern Thailand.
Provided On Tour
English-speaking guide
Driver and transportation
Local Thai meal
All entrance ticket fees
Hotel transfer (within 3 kilometers of the Chiang Mai City Moat)
Accident insurance
Guests will receive a local Thai meal on full-day tours. Visitors who have signed up for a half-day tour will receive light snacks and refreshments only.
Please inform us prior to your trip if your family has any special dietary requirements such as eating vegetarian or halal meals or if you have food restrictions or allergies. We will also provide bottled drinking water.
Weather

Thailand is hot and humid much of the year because it is a tropical country. But because Chiang Mai is in the mountains of the northern part of the country, the city's temperatures are somewhat lower than the central and southern areas of Thailand.
Don't be afraid to take a break from the heat and sun during the middle of the day. There are many opportunities to sit in an air-conditioned café and sip on a refreshing drink or to stop at a convenience store and buy bottled water, juice boxes, or snacks.
Chiang Mai is cool in December and January. Between the months of June and October, there is a little bit of rain. Since the rain showers usually last one to two hours each day during the wet season, your tour may pause briefly but then the schedule will continue as planned.
What To Wear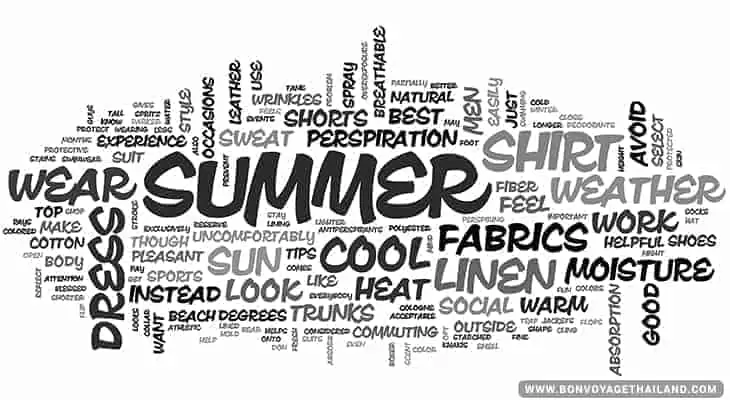 We recommend that visitors of all ages wear short-sleeved shirts and shorts to stay cool and comfortable. Loose fitting cotton clothing is perfect to wear for day tours and excursions. Be sure to wear comfortable shoes and pack a hat if you plan to spend a lot of time outside.
If your family participates in some of Chiang Mai's more adventurous activities such as bathing elephants, zip lining, or bamboo rafting, be sure to wear clothing and shoes that can get wet and a bit dirty. For the tours that involve visiting waterfalls or the water park, it's a good idea to wear a bathing suit under your clothing as well.