Best Private Tours in Chiang Mai and Chiang Rai
If you're searching for the best one-day tours in Chiang Mai or Chiang Rai, look no further. Get ready to take in the surrounding sights and stimulate your senses with a private tour with Bon Voyage Thailand. Experience an unforgettable trip in Northern Thailand – the kind you've only ever dreamed about – with ease and convenience thanks to your own personal English speaking Thai tour guide and driver.
If you have your heart set on visiting Chiang Rai, don't miss the Golden Triangle, a trip to a Long Neck hill tribe village, and the famous White Temple. In you prefer taking a private tour around Chiang Mai, you can see sights on Thailand's highest mountain, Doi Inthanon, or experience an Elephant Safari. Like the sound of these? Read on to find out how we can craft a private tour that's perfect for you.
A Private Tour Can Make All The Difference
You and your friends or family can experience the best kept secrets in town and ultimately the real Thailand in a personal and special way by taking a private tour.
A private tour has several distinct advantages and special benefits over a join in tour. Perhaps the most obvious perk is that a private tour is entirely focused on your specific interests and those of your friends and family with whom you are traveling. You don't have to worry about accommodating the needs and wants of people you don't know and you don't have to go somewhere or do something you're not personally interested in, either.
That's because a private tour is entirely customizable. Before going on your private tour, you will have the opportunity to discuss your 'bucket list' items with our team of experts at Bon Voyage Thailand. Let us know where you want to go and we'll also suggest places we think you may like that's not on your original list. Then we'll finalize your itinerary before your trip so that we can secure your private guide and driver. This is especially important during high season when there are so many visitors!
A private tour also goes at a pace designated by you, whatever that may be. On one hand, you can pack your day full of activities and sights. On the other hand, you can take it slow and go at a leisurely speed. This is especially helpful if your friends or family members have a range of ages and physical abilities or if you are traveling with a large group.
In a private tour, your guide is there to help you visit places that aren't offered or accessible on a pre-determined tour. Just let us know in advance the types of places you're interested in and our tour team will suggest intimate, off-the-beaten-path activities perfect for your travel style.
Lastly, you will have your tour guide's full attention. This allows you to have plenty of opportunities to ask questions about a particular place or activity and really dive deep into the culture, history, and other fun facts of whatever place you are visiting. Having such personalized attention will take your tour experience from good to amazing.
Things To Consider When Customizing Your Private Tour
Join in tours have a pre-determined schedule but private tours don't. Since you have the freedom to design your own tour, or at the very least make changes or upgrades to existing tours' itineraries, you should ask yourself a few important questions. These can help you focus in on your preferred activities, such as:
Are you into adventurous outdoor activities or would you rather experience less intensive activities?
Do you prefer to visit the classic, iconic sites or go somewhere off the beaten path and less touristy?
Are you interested in sampling a lot of local (and possibly unusual) food or prefer to eat food that you are familiar with?
Would you prefer a fast moving itinerary with many stops or a slow itinerary with more time at each place?
How many people are in your group? Be sure to consider the abilities of the youngest and oldest members.
Don't worry! Your private tour guide will do all the planning but answering these questions will help him or her craft the best itinerary for you. All activities will be chosen in advance so that This will all be done in advance
Provided On Every Private Tour With Bon Voyage Thailand
You can be sure to receive the following on a private tour:
Friendly and knowledgeable English-speaking guide
Seamless connections with a personal driver in an air conditioned vehicle
Flexible front door pickup and drop-off from anywhere within a 3 km radius of Chiang Mai Old City; additional rates may apply outside this area
Payment and handling of entrance tickets for standard activities; fees for optional (add-on) tours are not included
Local Thai meal
Accident insurance
Your guide will be able to provide a local restaurant recommendation for lunch and any 'must try' recommendations based on your dining preferences.
If you have any special dietary requirements such as eating vegetarian or halal meals or if you have food restrictions or allergies, just let your guide know. Bottled water and cool towelettes will also be provided throughout the trip.
Packing Essentials
We want you to be comfortable, so be sure to wear or pack the following items for your private tours:
Breathable, slightly loose fitting clothing such as short-sleeved cotton shirts and shorts
A pair of shoes that are comfortable and can be easily cleaned
Mosquito repellent, sunscreen, wet wipes, and any special medications
A light poncho or rain jacket (July through October)
Passport (Chiang Rai tour only)
A Taste Of Northern Thailand's Best Private Tours
Not sure what Northern Thailand offers visitors like yourself? The good news is that the two major cities in the region, Chiang Rai and Chiang Mai, have an incredibly diverse mixture of sights and activities from which to choose.
Choose one of our suggested private tours below or cherry-pick your favorite activities and combine them to make your own customized tour.
Chiang Rai: Golden Triangle + Long Neck Village Private Tour
Highlights of this private tour to Chiang Rai include visiting the:
Local hot springs
White Temple
Golden Triangle (Border of Thailand, Laos and Myanmar)
Optional: Boat trip along the Mekong River to a Laotian island
Mae Sai Market on the Thai-Myanmar border
Akha and Long Neck Karen hill tribe villages
Explore the best of Chiang Rai on this extended day tour to the old capital of the Lanna Kingdom. This private tour begins early in the morning and includes a short visit to a local hot spring to buy coffee and snacks before continuing to one of the most famous temples in Thailand, the White Temple. This entirely white structure is covered in intricate sculptures and tiny mirrors that shimmer and twinkle in the sun. It's absolutely stunning and a must-see attraction for anyone visiting Chiang Rai.
The tour continues to the Golden Triangle, a region of Thailand that was once infamous for its opium trade. Here you will stop at a place that overlooks the special tri-point where the borders of Thailand, Laos, and Myanmar meet due to the converging of the Mekong and Ruak Rivers. There's also an optional boat tour to the island market of Don Sao in the middle of the river. Try it if you'd like! Although this island is part of Laos, visiting it won't affect your Thai visa and you won't need a Laos visa. However, you will need a photocopy of your passport and your passport to visit.
Not far from the Golden Triangle is Thailand's northernmost town, Mae Sai. It rests on the border of Thailand and Myanmar and is home to a border market. Here you will be asked to leave your passport with the local Thai immigration office as you shop for duty free souvenirs and sample local snacks.
The tour wraps up with a trip to two fascinating but strikingly different Northern Thai hill tribes: the Akha and the 'Long Neck' Karen. Both tribes wear distinct clothing and specialize in producing handmade crafts that are unique to the region. These handmade items are not only wonderful mementos of your trip to Thailand but by purchasing them you are also helping to support the hill tribe communities.
Throughout this tour to Chiang Rai you will be personally chauffeured around in a comfortable air-conditioned vehicle and your private guide will lead you every step of the way. All you have to do is sit back and enjoy the ride!
Book a private Chiang Rai Golden Triangle Tour now for the most iconic sites of Northern Thailand.
Chiang Rai: White Temple + Black House + Long Neck Karen Village + Tea Plantation Private Tour
Highlights of this private tour to Chiang Rai include visiting the:
White Temple
Black House
Long Neck Karen hill tribe village
Tea plantation at Boon Rawd Farm
This one day private tour highlights some of the most visually stunning destinations in Chiang Rai, a city that was once the capital of Northern Thailand. Chiang Rai is home to one of the most recognizable structures in all of Thailand, the White Temple. This temple is entirely white and is decorated with intricate sculptures and glinting mirrors that give it an ethereal appearance, especially during sunny days.
After a visit to this incredibly beautiful temple, continue to a tea plantation in the countryside. Here you'll find thousands of rows of tea plants gracefully stretching over the nearby hills. Not only are the tea plants pretty to look at but they have a fresh, uplifting scent, too. Afterwards, you can look forward to a short rest and a delicious Thai lunch.
Your private tour guide will then take you to the Black House, a place that is starkly different from the heavenly White Temple. Known locally as Baan Dam, this series of buildings contains an artfully arranged collections of animal skeletons and skins, eerie wooden sculptures, and metal devices that look like something out of dungeon. Some people think it's frightening but many people think it's fascinating!
Your private tour will end with a visit to a famous hill tribe village known as the 'Long Neck' Karen. You may already be familiar with their custom in which the women wear large brass rings around their necks. This gives an illusion of an elongated neck and is considered beautiful by their tribe members.
For a culturally rich tour, choose this full day private tour to Chiang Rai. It has everything you need – great sites, attentive guide, and comfortable transportation – for an unforgettable trip in Northern Thailand.
Chiang Mai: Doi Inthanon Private Tour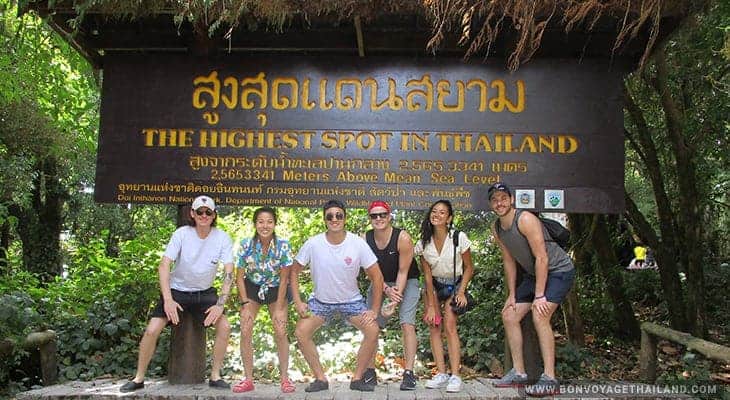 Highlights of this private tour in Chiang Mai include visiting:
Two beautiful waterfalls
A hill tribe village unique to Northern Thailand
King's Royal Projects encouraging agricultural sustainability
King and Queen Twin Pagodas
A short nature trail to the highest point in Thailand
This private tour is perfect if you love the outdoors. Doi Inthanon National Park is named after Thailand's highest mountain, Doi Inthanon, and it is home to a variety of trees, flowers, and bird species as well as stunning sights unlike anywhere else in the region.
After a drive through the picturesque countryside of Northern Thailand, your tour will begin with a visit to two stunning waterfalls and a hill tribe village. Here you can see what life is like in the quiet hills and browse through the beautiful handmade crafts created by the people of the tribe.
After a satisfying Thai lunch, your private tour guide will take you for an easy walk along a nature trail. It ends at the tallest peak in Thailand, the Doi Inthanon Summit, which reaches an elevation of 2,565 meters. Nearby are the Twin Chedis, two incredible buildings that mirror each other in design and are dedicated to the King and Queen of Thailand. They sit atop the mountain and are surrounded by manicured flower gardens and provide a fantastic viewpoint of the valley below.
Thanks to the King's Royal Projects, the local hill tribe people make a living growing cool-weather crops on tiered fields down the mountainside. Don't be shy to sample some of the local, seasonal produce or a cup of freshly brewed coffee while you're there.
Eager to experience the most beautiful mountain views in the region and have a taste of Thai culture? Your private tour guide will be sure to point out the best experiences along the way. Book here now for a private tour of Doi Inthanon.
Hug Elephant Sanctuary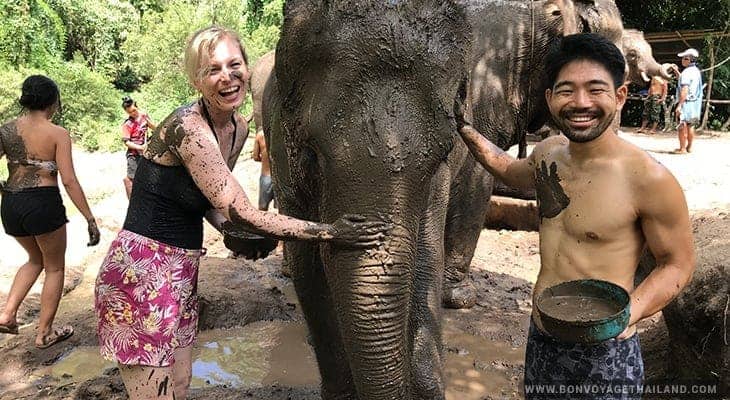 This is not a private tour, we offer you private transportation if needed, we consider this elephant tour as a must do in Chiang Mai, please contact us.
Highlights of this tour include:
Learning about elephants' behavior, anatomy, and their long history in Thailand
Feeding and playing with them in their natural home in the jungle
Giving the elephants a cooling mud spa
Bathing, brushing, and swimming with the elephants in a local waterfall
No elephant riding
Private transportation
Experience a spectacular day with Thailand's most revered animal on a special private elephant tour. It's packed with one-of-a-kind experiences you won't find anywhere else in the world and may just be the ultimate highlight of your entire trip.
These gentle giants were rescued from hauling logs and giving rides to tourists. Now they spend their days at Hug Elephant where you can spend time with them doing what they love most: being fed their favorite snacks, playing in a waterfall, and taking a mud bath.
The tour takes place in the heart of the Thai jungle. After meeting your English-speaking Thai guide, you'll learn about the important relationship that Thailand has had with elephants and their history in the logging and tourism business. Afterward, you'll meet the rescued elephants and win them over by feeding them their favorite treats of tropical fruit and sugarcane. Get up close with the elephants and marvel at how big they are!
After you've met them one by one, it's time to get messy! Your new elephant friends love rolling around in the mud and having cooling mud splattered all over their bodies. The mud helps to protect their skin from bugs and the hot Thai sun.
Once the elephants are thoroughly covered in mud with your help, take a relaxing walk through the Thai jungle to a natural waterfall. At the waterfall, you'll be given a water bucket and a scrub brush to help wash the elephants clean.
The Hug Elephant Private Tour is the ultimate way to see Thailand's majestic animals. Don't miss this tour if you've come to Thailand to see elephants! Book here now.
Chiang Mai: Elephant Safari Private Tour
Highlights of this private tour in Chiang Mai the following activities:
Elephant show at Mae Tamaan Elephant Camp
Elephant ride through the jungle
Visit to a Lisu hill tribe village and their handicraft center
Scenic oxcart ride
Peaceful ride on a bamboo raft down the Mae Taeng River
Butterfly and orchid garden
If seeing elephants is on your bucket list, get a double dose of elephant fun on this private Elephant Safari tour. It's packed with the best countryside activities and one-of-a-kind experiences you won't find anywhere else.
Begin this trip in the heart of the Thai jungle. Enjoy a peaceful ride down the Mae Taeng River on a bamboo raft and take in the sights of the surrounding tropical forest. At the end of the river ride you'll be transferred to the Mae Tamaan Elephant Camp to watch a family of elephants happily getting scrubbed and washed by their mahouts (elephant trainers) in the river. After their refreshing bath, the elephants will play ball, dance, and paint pictures for you. Don't forget to take a picture!
Afterwards, eat a traditional Thai lunch by the river and then take a once-in-a-lifetime ride on an elephant! Ride your gentle giant through the cool, shady jungle and down a nature path to a local hill tribe community handicraft center. Afterwards, say 'goodbye' to your new friend and then browse through the intricate beaded jewelry, elaborate clothing, and woven baskets handmade by people of the Lisu hill tribe. You'll return to the elephant camp on a traditional oxcart ride and stop at an orchid and butterfly farm along the way.
The Elephant Safari Private Tour highlights the best natural sights and activities in the Thai jungle. Your personal tour guide will make sure you and your family are comfortable and are having an unforgettable time. Don't miss this tour if you've come to Thailand to see elephants! Book here now.
Build Your Own Personalized Tour
Can't decide on a specific tour? Are there several different activities that catch your eye but you're not sure which things to do and places to go are the best for your trip to Thailand?
Our team at Bon Voyage Thailand is here to help!
The beauty of a private tour is that it's possible to craft an itinerary that will be truly special for you and your friends or family. If you can't decide between one of our suggested tours from above, pick your favorite sites and activities and then let our team combined them into a one-of-a-kind itinerary for the perfect tour of Northern Thailand. We are also happy to make minor changes to an existing tour to suit your personal tastes, although keep in mind that some changes may incur a small additional fee.
Let us know what your 'must have' bucket list items are, how many people are in your group, and what your activity level is. If there is anything you prefer not to do, let us know about that, too. We'll create a basic itinerary and provide you with a quote soon after contacting us.
So what are you waiting for? These private tours fill up fast, contact us to secure your spot for the perfect tour of Northern Thailand. Let's get started now!