Chiang Mai, a city that was once the capital of the Lanna Kingdom in Thailand, is now a hotspot for backpackers looking to travel in style. The "Rose of the North" has it all: upscale food vendors serving up steaming bowls of curry and stir-fried noodles, an ever-growing wellness scene, and quirky craft beer bars and live music venues scattered among hip hostels and boutique guesthouses.
Chiang Mai is very popular among traditional backpackers, who can be seen sporting a worn Lonely Planet guidebook in one hand and a few bills tucked away in the other. However, this city has more recently caught the attention of flashpackers: tourists who upscale their travels and have a bit more disposable income to spend on better quality accommodations, tours, and meals. If this sounds like your style of travel, then use this guide to traveling, staying, and eating in Chiang Mai.
Where to stay in Chiang Mai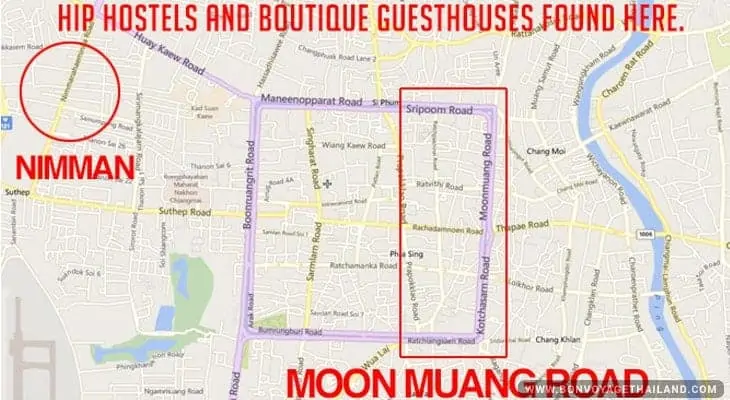 The most convenient place to stay in Chiang Mai is near the Old City's square moat. Restaurants, cafés, massage parlors and handicraft shops are just a few steps away. It's also possible to hop in the back of a local red truck taxi or "songthaew" in minutes and go off to your desired destination around the city. Backpackers traveling in style tend to favor accommodations along the inner moat road on the east side of the city, which is locally known as Tanon Moon Muang. This road is conveniently near Tha Pae Gate and is lined with hip hostels that double as tour centers, meeting places and restaurants. Another up and coming area that is highly sought after is Nimmanhaemin. Known simply as "Nimman", this part of town has the trendiest food, music, and art scenes in addition to a variety of boutique hotels.
What to do in Chiang Mai
Whether you choose to stay within the city limits or venture out into the countryside, there are plenty of things to do in Chiang Mai. Peppered between afternoons of exploring the town on your own, here are some of the top activities and attractions that will make your experience go from good to fantastic.
Elephant Sanctuaries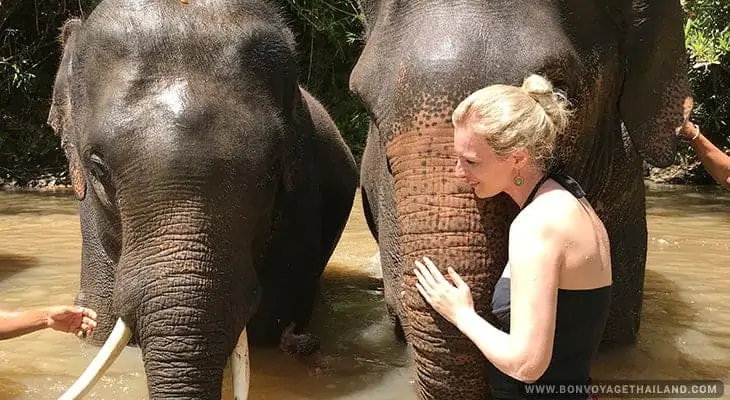 Many people travel far and wide to come to Thailand and spend time with elephants. As part of the growing movement in ethical tourism, many tour companies in Chiang Mai encourage travelers to visit sanctuaries where they can play with and feed elephants. The elephant sanctuaries in Chiang Mai often rescue abused or overworked elephants and nurse them back to health. By visiting one of these elephant parks, you'll see the gentle giants in the peaceful, humane place they call home. For many travelers, getting up close and personal with an elephant is the highlight of their trip.
Trekking and Hiking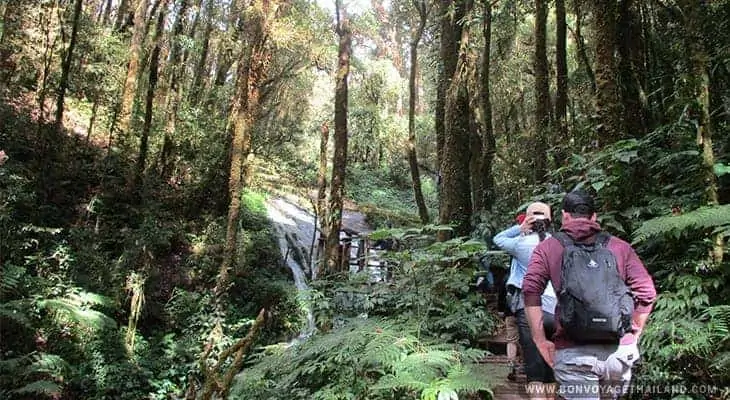 Chiang Mai is surrounded by jungle-covered mountains, so it should be no surprise that trekking and hiking are among the top things to do. Outdoor lovers can choose from single-day hikes to 5-day treks and everything in between. With the help of a local guide, tramp through the scenic forest, pass lush rice fields and local hill tribe villages. You may also get to visit elephants in the jungle or go rafting down a river.
Jungle Flight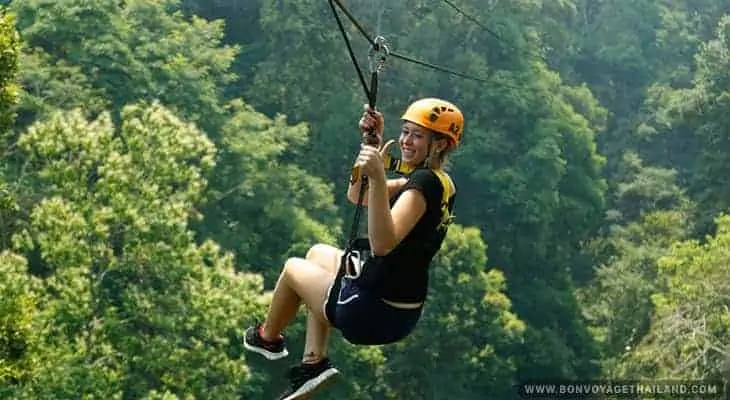 What better way to experience the Thai jungle than from above as if you were flying? This three-hour eco-adventure jungle flight takes you into the nearby forests of Doi Saket where you can zipline and rappel your way through the treetops. The longest zip line is 400 meters long! You can also experience breathtaking views from several sky bridges and panoramic viewpoints during this adventure.
Temple Hopping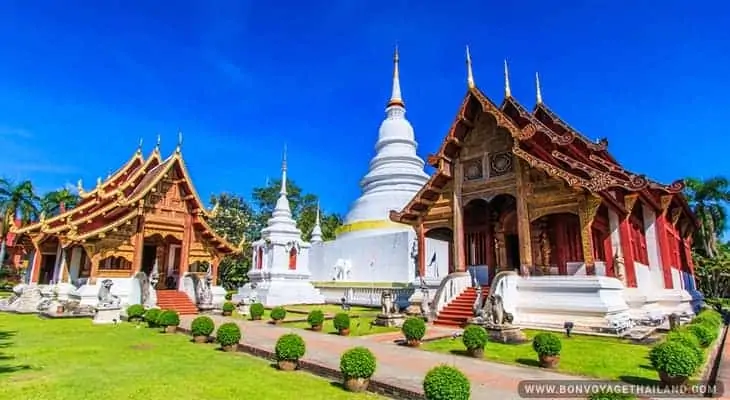 There are so many temples in Chiang Mai that if you visited one every day you'd be in town for the better part of a year! Even if you aren't planning to stay that long, some of the oldest, most culturally important temples are in the heart of the city. The temples are intricate and beautiful testaments to everyday Thai life and are visited by both locals and tourists. Three temples that are incredibly old and but a perfect addition to a walking tour of the city are Wat Phra Singh, Wat Chedi Luang, and Wat Chiang Man. They are spectacular examples of 14th and 15th century Lanna architecture and art, complete with detailed sculptures and colorful paintings.
Wat Phrathat Doi Suthep
One of the most revered temples in all of Northern Thailand is Wat Phrathat Doi Suthep, which is also known as the Doi Suthep Temple. Home to a relic of the Lord Buddha, this temple is perched on the side of the nearby mountain, Doi Suthep, and has magnificent views atop a 300+ step climb. If you decide to take a trip short visit to this magnificent landmark, be sure to sample the tasty Thai snacks served by vendors at the temple's entrance, browse through the stalls selling silk scarves and prayer bells, and pay homage to the Buddhas within the temple.
Thai Massage Class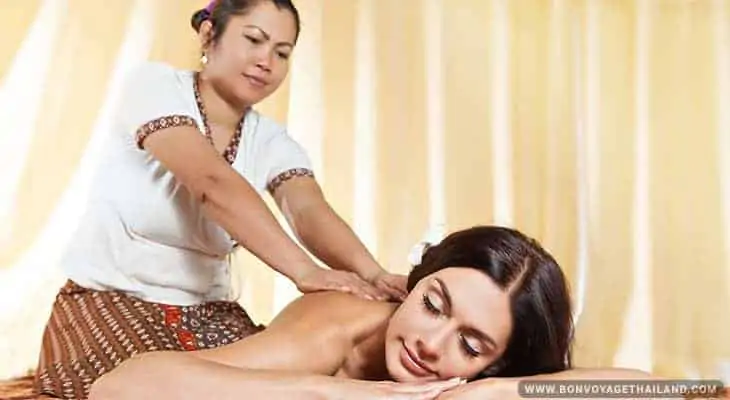 Many people who visit Chiang Mai treat themselves to Thai massages. It's hard not to because of the abundance of shops, the unbeatable prices, and the health benefits from this special therapy. For those who wish to learn this healing art, you're in luck! Chiang Mai is the perfect place to take a massage course this ancient acupressure method. The technique can be reviewed in an afternoon, but for those who would like more instruction can enroll in courses that are several weeks or even several months long. If you learn the ancient methods of Thai massage, it's one of the best souvenirs to bring home from a trip to Thailand.
Thai Cooking Class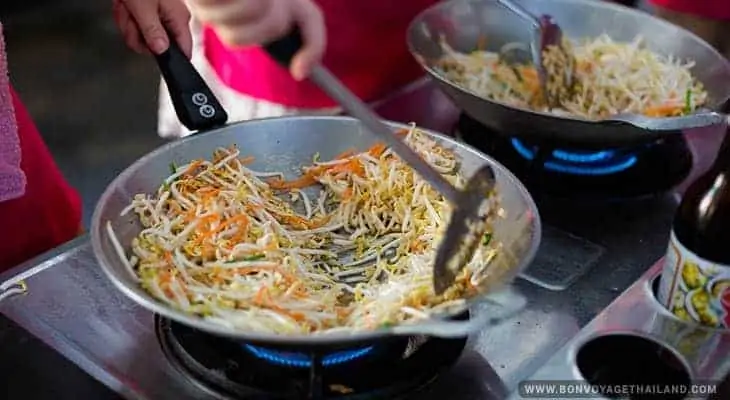 Thai food has some of the most recognizable flavor profiles in all of the world's cuisines thanks to its abundant use of garlic, lemongrass, kaffir lime leaves, chilies, and fish sauce. If you've fallen in love with Thai food and want to know how to cook your favorite dishes, then sign up for a cooking class! Many Thai cooking classes take students to a local market to browse through the fresh produce and purchase the ingredients used in their culinary creations. After given instructions to prepare and cook your dishes of choice, you can eat them! You also can read this article about the Best Chiang Mai Cooking Class & Food Tour.
Muay Thai Boxing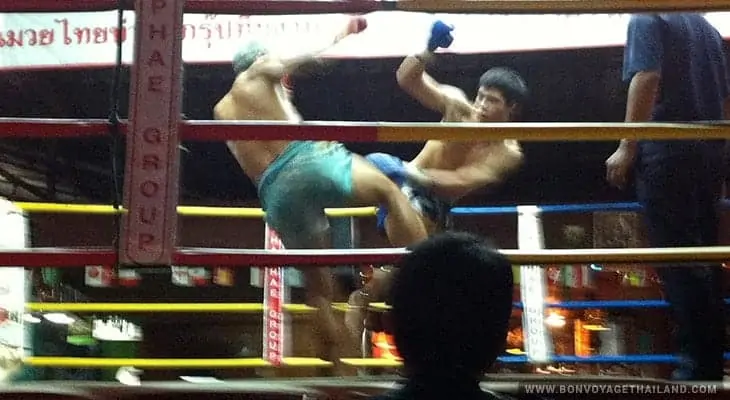 Muay Thai's worldwide recognition is on the rise thanks to its growing popularity among athletes and spectators alike. Chiang Mai happens to be one of the best cities in Thailand to experience this adrenaline junkie sport. Chiang Mai has many Muay Thai boxing centers where you can train with the experts. This unique style of boxing builds both muscle strength and stamina, but it's not for the faint of heart! Get ready for some intense physical exertion and the pounding of fists, feet, elbows, and knees. If you aren't ready to start Thai-style boxing quite yet, there are several stadiums in Chiang Mai to watch the sport from the sidelines.
Outdoor Markets & Night Bazaar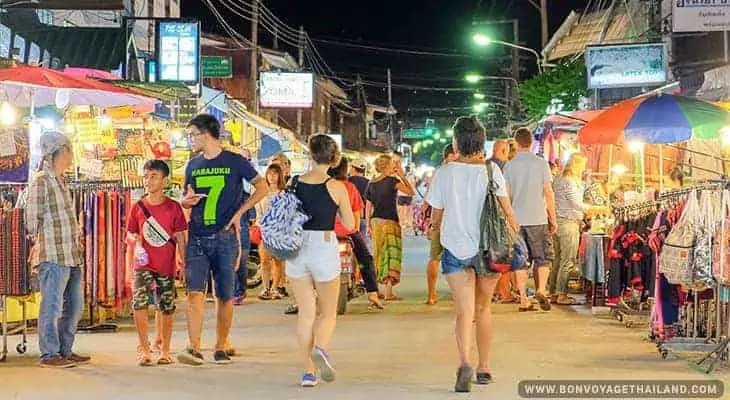 Chiang Mai has several prominent outdoor markets. The most popular are the Night Bazaar, which is open every evening along Chang Klan Road, as well as the Saturday and Sunday Night Walking Streets. Travelers and locals both enjoy the carnivalesque atmosphere complete with locals playing live music and vendors selling Thai treats. One market that is often overlooked but worth visiting is the Warorot Market. Because it has more Thai clientele, travelers can have a more authentic experience. Here you can find jewelry, pottery, woven goods, and silk fabrics that are handmade from local tribes. There are fresh produce and flower markets within, too.
Outdoor Beauty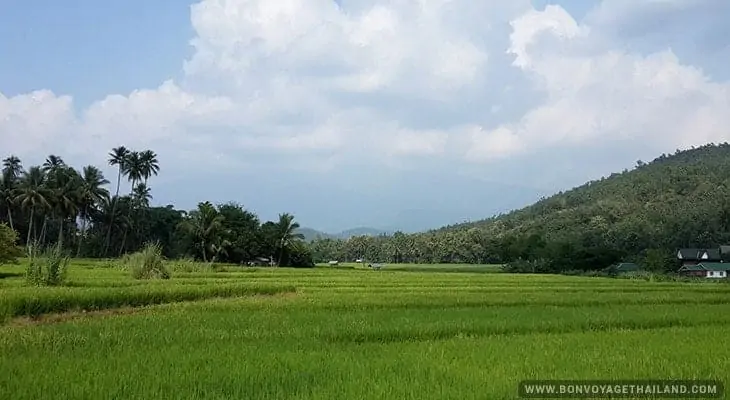 Chiang Mai is home to some gorgeous outdoor attractions. Just north of the city is Mon Cham, an organic farming community that rests in the clouds. The on-site restaurant serves meals cooked using vegetables and herbs harvested from the gardens. Visitors can peer out at the beautiful terrace fields, full of flowers and vegetables, while they eat. Make the day trip complete with a visit to the nearby Queen Sirikit Botanical Gardens and Mae Sa Waterfalls. The gardens are dedicated to her Royal Majesty and feature impeccably groomed flower beds. The waterfalls are eight levels high and have several natural swimming pools in which to cool off.
Khantoke Dinner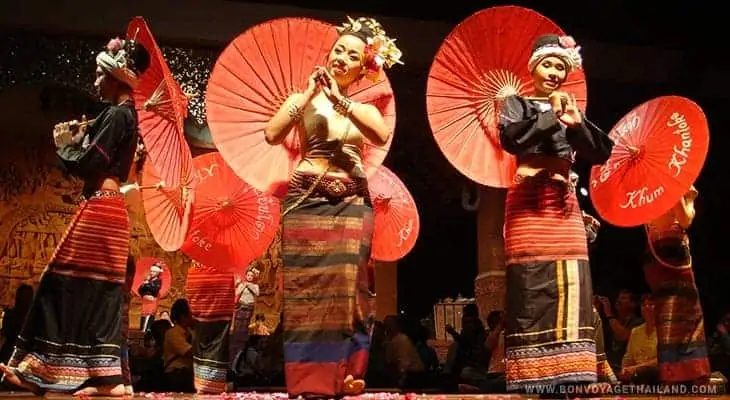 One way to experience the unique Lanna culture of Northern Thailand is to spend an evening enjoying a khantoke dinner accompanied by a performance of traditional Thai dance and music. A khantoke is a circular serving platter with short legs. The khantoke dinner uses this pedestal tray to serve a number of small bowls brimming with Northern Thai dishes accompanied by sticky rice. This dinner is an excellent way to sample this region's cuisine while watching local performers.
How to get to Chiang Mai from Bangkok
Thailand has a well-developed infrastructure and reliable modes of transportation. Depending on your schedule and your budget, here are the most popular ways to travel to Chiang Mai.
By Plane
If you prefer to fly, then you can look forward to a short, convenient flight from Bangkok to Chiang Mai. Bangkok has two airports, Suvarnabhumi and Don Muang, which offer 1-hour and 15-minute flight services to Chiang Mai. Chiang Mai International Airport is about a 10-minute taxi ride from the city center.
By Train
The train ride from Bangkok to Chiang Mai is a 12-hour overnight trip. Beginning at Bangkok's Hua Lamphong Station, there are first class, second class, and third class seating, which range from a private air-conditioned sleeper to a reclining seat. Tickets range from 300 baht to 1,700 baht. Be sure to book in advance to get the seating you want!
By Bus
An overnight bus to Chiang Mai is another option. You can buy tickets from a travel agent and take a bus from Khao San Road in Bangkok or travel directly from the Mo Chit Bus Station (North Bangkok).
Where's your next stop?
Chiang Mai is a central hub to many smaller yet intriguing towns in Northern Thailand. Here are some of the visitors' favorites:
Chiang Rai
Chiang Rai is just over a three-hour drive north of Chiang Mai. The city is a smaller, more laid back version of Chiang Mai. It's most famous landmark is the White Temple, a stunning work of art by a local Thai artist.
Pai
This tiny bohemian town is a roughly three-hour drive northwest of Chiang Mai but has a completely different vibe compared its sprawling neighboring city. Pai's atmosphere is cool and funky. With many bars and musicians performing live, it has become a very popular place for backpackers and flashpackers alike.
Chiang Dao
Want a peaceful stop with way fewer tourists? Chiang Dao is an hour ride north of Chiang Mai and offers beautiful views of the countryside along the way. There are several temples with stunning views and Chiang Dao is also famous for its caves. It's perfect for an overnight or long weekend getaway.
Mae Hong Son
For those who really want to veer far from the touristy path, make a trip out to Mae Hong Son. This Thai town is nestled amidst mountains and countryside and is perfect if you want to really get to know the locals. One thing's for sure: Chiang Mai is one of the most inexpensive cities to travel to as a backpacker. But what's even better is that with a slightly larger budget, you can do so in style and comfort.